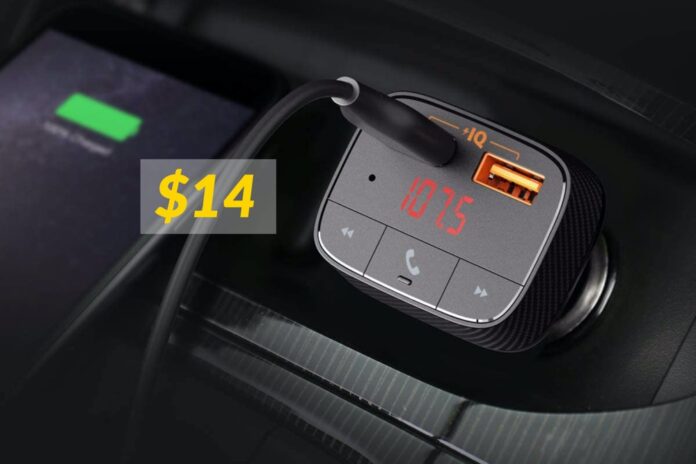 You must stop what you are doing right now and check out Anker's discounted $14 FM transmitter Roav SmartCharge to play your music, charge your phone, and call — totally hands-free.
The Roav SmartCharge usually costs $17. This functionality is easy to use, as the cassette player FM transmitters of the past. Just find an unused radio station, sync it to Roav, and you're set to start bumping your favorite playlist without the need for an integrated Bluetooth solution.
This is Flash Light, Oh Wait It's A iPhone Charger, No No It's A FM Radio
The Roav SmartCharge also supports Bluetooth, which means that you can also wirelessly extend your spring mix via this protocol. It even has built in the skip and backtrack buttons, so you don't have to touch your phone while driving.
Product Details:
Stable Transmission: Solid Bluetooth and FM connections stream music straight from your phone to your car's sound system.
Clear Sound: Just find an unoccupied station and the boosted FM signal and static-cancellation technology broadcast a great listening experience.
Rapid Charging: Dual USB ports with Anker's advanced technology deliver simultaneous high-speed charging to driver and passenger. Qualcomm Quick Charge not supported.
Better Hands-Free Calling: Bluetooth 4.2 provides a stable connection and echo-cancellation reduces background noise for clearer calls. What You Get: Roav SmartCharge F0, manual, happy card, 12-month worry-free warranty, and our friendly customer service.
Incompatible with 2007 VW Jetta, 2011 Nissan Rogue, 2002 Nissan Altima 2.5S, 2001 Audi A4, 2007 Dodge Grand Caravan, 2011 Mazda Miata, 2005 Toyota Highlander, 2004 Saturn Ion, 2005 Honda Civic, 2008 Chrysler Town and Country, 2009 Hyundai Sonata GLS.
Note: "We may receive a commission when you purchase products mentioned in this website."