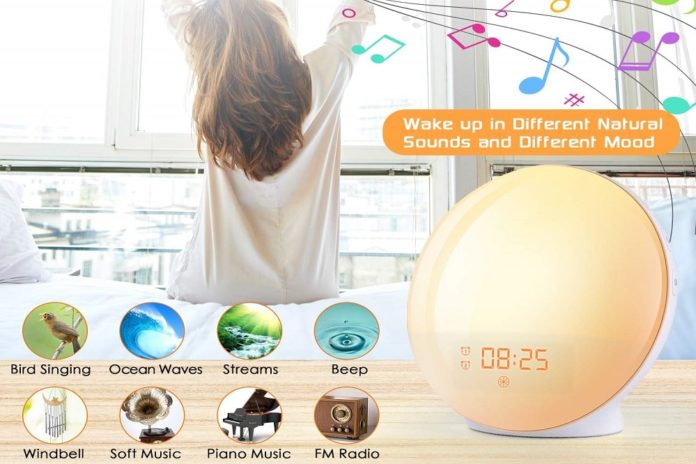 Have you ever met someone who uses a light alarm clock to wake up? They probably had nothing to say other than good stuff if they've ever had to speak with you. These fun little gadgets make you feel refreshed and enthusiastic and take that feeling with you all day. Still, everybody swears that the Philipps model costs $140 and that's a lot for the alarm. If you want to share the same experience without spending an absolute fortune, check out the Fitfort Wake Up Light Alarm Clock for a mere $32.
Product Highlights:
Intelligent Sunrise / Sunset Simulation: Simply set your alarm time, the wake-up light will gradually increase from 10% to 100%; the color of the wake-up light changes from a gentle red to bright sunlight. Before bedtime, the light will gradually dim from 100% to 0% with music, it helps you sleep better. 97% of users found it easier and more comfortable to get up in the morning with this light alarm clock
Personalized Alarm Settings: Uneasy to get up from your bed? Upgraded snooze function gives you an extra 9-minute sleep after your original alarm. 20 levels of brightness allow you to adjust the wake-up light to the proper brightness at bedtime. What makes you unexpected is that there is a USB charging port behind this alarm clock which can charge your phone or other devices
Dual Alarm Clock Function: Considering you may have different needs for the alarm, the upgraded sunrise alarm clock provides two sets of alarms — One for you and the other for your spouse without affecting each other. And it supports two alarms at the same time, one for the working day and the other for the weekends
FM Radio Clock: Want to wake up and hear your favorite music or even the day's news? This radio alarm clock supports manual/auto searching radio stations and automatically saving the radio stations to the playlist (max 60 stations). It can also be used as a regular radio throughout the day. Moreover, the radio can also be set as an alarm ringtone. Please note: spreading the wires will improve signal
7 Natural Sounds Alarm Clock & 7 LED Light Colors: The light alarm clock owns 7 natural sounds with 16-level volume adjustment, you can choose your favorite sounds at the right volume for a gentle wake up call. The clock supports manual/automatic switching of the light between yellow, red, purple, blue, indigo, green and cyan. This wake-up light can be also used as a reading light, bedside lamp, atmosphere light.
Note: "We may receive a commission when you purchase products mentioned in this website."