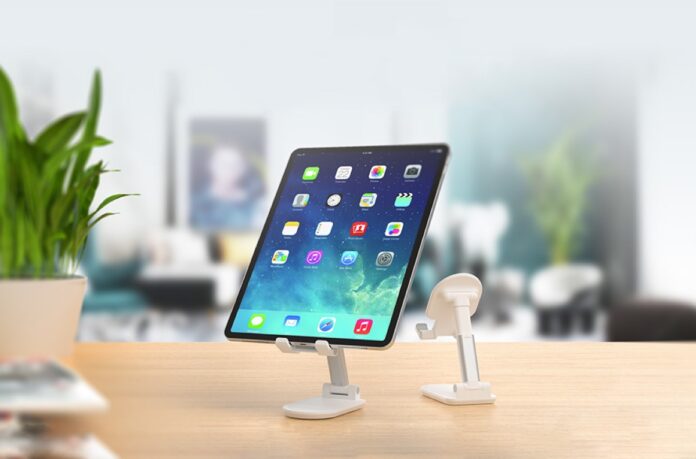 Amazon is offering UXD Adjustable Phone Stand for $9 when the discount code UVGJQBFR is used at the checkout. This is 50 percent off the $18 selling price.
Using metal support rods and a heavier base, this cell phone stand stabilizer has a low center weight, which can easily support your mobile phone and iPad. Without worrying about the phone tipping or falling, the top silicone pad and non-slip base can well protect your device from scratches and bracket sliding, easily tap the screen.
This 128GB USB C Flash Drive For MacBook Pro Works Without Dongle & It's On Sale For $15
A reserved charge hole is available on this phone stand, which allows you to charge this holder with the device. The fold-out design is in (L*W*T) in size and the weighted maximum is only 0.46lb. The gentle edge enables you to enjoy even on the edge a comfortable touch.
The UXD mobile device supports the mobile phone to adjust several angles to suit your various viewing needs. Better view the recipes while cooking. It's great on your nightstand, too, so no more fumbling around to shut the alarm off in the morning. When the phone is in silent mode, you can see incoming notifications and calls at a glance.
This Microphone is Specially Made For iPhone & It's Discounted At $17
This cell phone stand works with all smart devices even with a thick case, like iPhone 11 Pro Xs Xs Max Xr X 8 7 6, Switch, iPad mini, Samsung Galaxy S10 /S10+/S9 /S9+/S8 /S8+, Samsung Tab, Google Nexus, Kindle.
The refined and detailed design of the UXD desktop holder is a great present for your family or friends.
Note: "We may receive a commission when you purchase products mentioned in this website."