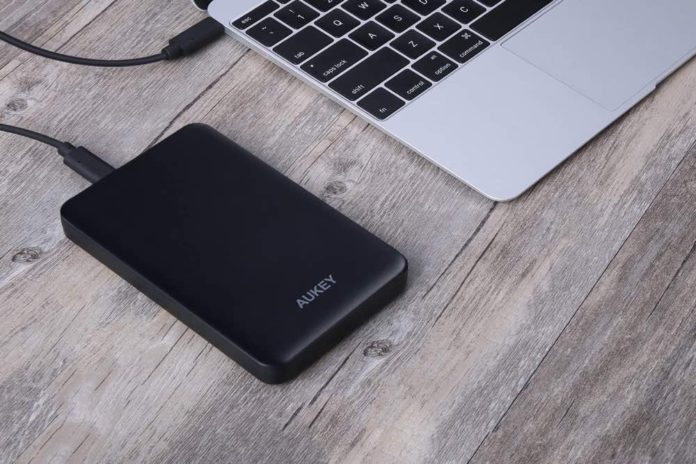 Aukey Store US offers its USB-C 2.5-inch external hard drive box for $8.90 with ZIDVMXYL codes at checkout. This is almost 20% off its normal rate and is one of the best prices we've ever followed. With a handy adapter, this enclosure can be accessed from any 2.5-inch disk or SSD via USB-C. It supports capacity up to 2 TB, and is excellent if you got replaced your laptop or desktop with a newer, faster storage drive. This housing can handle transmission speeds up to 550MB/s with USB 3.0 connectivity depending on the type of drive you have in it. 3.9/5 stars ratings.
Product Highlights:
Convenient External Storage: Turn a 2.5″ SATA hard drive or SSD (with 1.5Gbps, 3Gbps, or 6Gbps data transfer rate) into a portable external hard drive. Upgrade or back up your USB-C computer or laptop with up to 2TB hard drive capacity
SuperSpeed Performance: Rapid data transfer rates up to 5Gbps through the USB 3.1 Gen 1 (USB 3.0) port with UASP (USB Attached SCSI Protocol) support for up to 70% faster performance compared to traditional BOT (Bulk-Only Transport) mass storage access over USB 3.1 Gen 1
Compact Design: Lightweight, portable disk enclosure for your USB-C laptop turns drives from old computers into portable storage or backup drives, and protects your data wherever you go
Easy to Use: Screwless hard drive installation and plug & play operation (no drivers or software needed) ensures quick, fuss-free access to your data
Package Contents: AUKEY DS-B6 USB 3.0 Type-C 2.5″ Hard Drive Enclosure, USB-C to USB-C Cable, User Manual
Note: "We may receive a commission when you purchase products mentioned in this website."