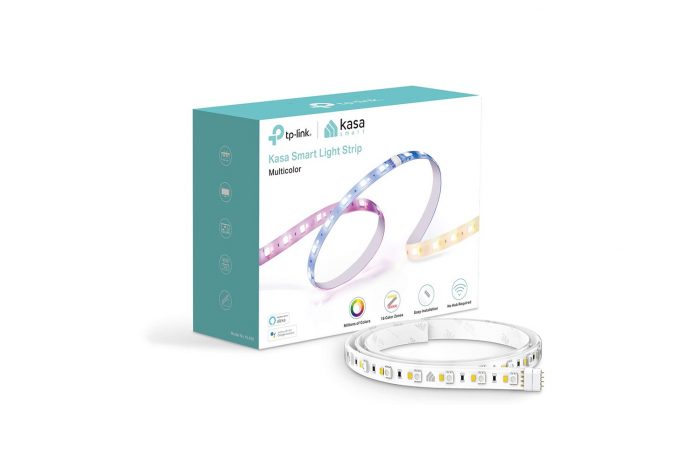 You can now pick up smart LED smart light strip from the TP-Link Kasa at Amazon with 16 individual color zones and endless color options with an appealing 14 percent discount. The discount allows you to pick up the light strip for $59.99.
Many homeowners choose to use smart lighting by taking standard light bulbs that are fitted to standard ceilings or lamps. However, others prefer to go for a light band like that, which gives them amazing accent light in various parts of their homes. This type of product can be ideal for adding additional lighting to rooms or introducing a completely new ambiance in all rooms.
This product has a length of 80-inches and packs millions of colors for combinations that fit every mood. The strip can be cut to suit a shorter length using pre-defined markers or extended by clipping additional strips in situations that need a longer run. It has animating lighting effects and is provided with a dozen redefined effects to choose from, all designed to provide a single lighting experience in whatever room you choose to configure this product.
You can group other smart lights into the property so that they are all controlled at once. You can also set different schedules to further automate the experience and ensure that everything works exactly as you like. If you have existing hardware in your home, you will also get access to voice control via Alexa and Google Assistant.
Product Highlights:
Millions of colors: Your 80″ light strip features millions of colors for combinations built to suit every mood, making your home the ultimate entertainment destination.
Animated lighting effects – Kasa's light strip features advanced animated lighting effects, with a dozen of effects to choose from, for a unique lighting experience.
Adjustable length – Add additional Kasa light strip extensions easily with a strong and secure 4-pronged connector to increase the length up to 33 feet or cut the strip along markers to fit into smaller areas.
Voice control – Use simple voice commands to control your Kasa smart light strip with Alexa or Google Assistant.
Group & schedule lights – Group all of your Kasa smart lights together and save time. Control the brightness, change colors, set schedules, and more with just a few taps
Dimmable – Adjust the brightness of your lights, up to 1400 Lumens, from a well-lit get together to a dim-lit dinner party.
No hub required for simple setup – Download the Kasa smart app (Android, iOS), plug in your smart light strip, and follow the simple on-screen directions to watch your home light up without the need for a hub.
Note: "We may receive a commission when you purchase products mentioned in this website."