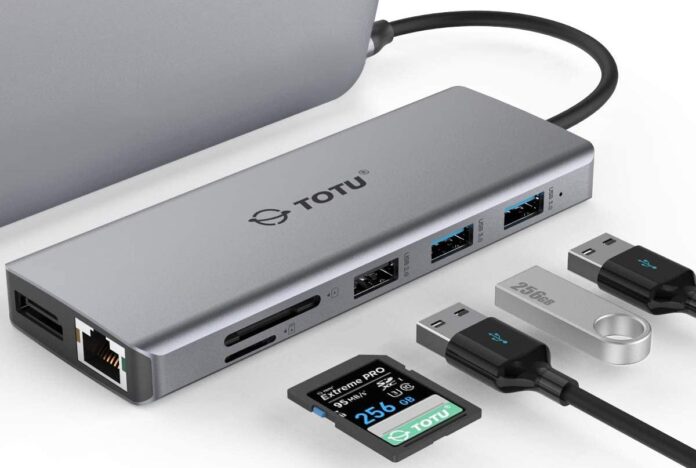 The TOTU 13 in 1 Type C Hub is offered by Amazon for $60 and you don't even need to take care of coupons. You save 25 percent for this particular item today. By expanding the female USB C port to multiple connectivity options such as headphone jack, sd/microSD card reader, USB A, HDMI, LAN, and more, the TOTU USB C Hub offers a stable connection and increases your device's productivity. For enterprise use, advanced networking, and security. The port you have included is no longer restricted to your laptop.
COWIN E7 Headphones With 37000+ Five Star Rating Drops To $39
Product Details:
Massive Docking Station: Please make sure that your laptop Type C port supports DisplayPort Alt Mode and Power Delivery. Only mirror display for macOS system. The usb c hub is incompatible with the USB-A to USB-C Adapter.
Triple Display for Windows: only support the Triple display for Windows. 3840×2160 output only available when using HDMI or DP display or mirror the three displays. In extend mode, each will be limited to a maximum resolution of 1080P.
Ultra High-Speed Data Syncing: 2 USB 3.0 ports transmission speed up to 5 Gbps. 2 USB 2. 0 ports with 480 Mbps transfer speed. Due to the USB 3. 0 radio frequency interference, it is advisable to connect the USB 2. 0 port.
Widely compatibility: Compatible with the Type C system: Work on windows 7/8/8. 1/10, Mac OS X 10. 6, Linux 2. 6. 14 or late operating System(Please use 45W above adapter for laptop charging).
Plug-play: Mac only offers to mirror the two external displays. Unibody aluminum alloy ionized finish, extremely compact and slim. Functions as USB C hub only; may not provide sufficient power for tablets and smartphone devices.
Note: "We may receive a commission when you purchase products mentioned in this website."