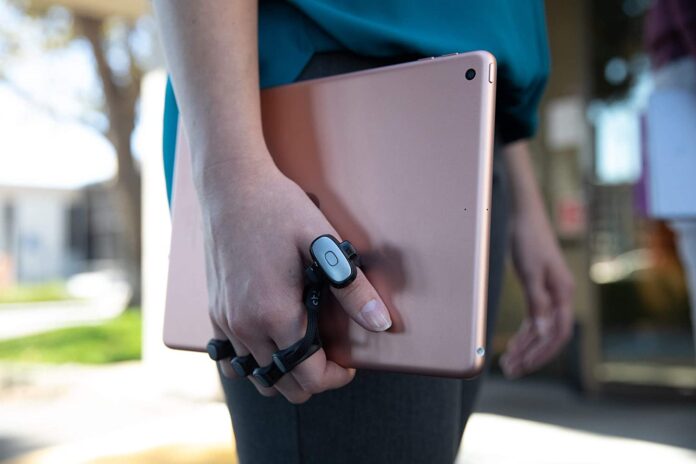 Amazon is offering Tap Strap 2 – Wearable Keyboard, Mouse & Air Gesture Controller for $114 with a direct discount. This is $85 off the usual price.
Tap is a wearable hand-worn which you can type, mouse, and control air gestures of any device with one hand. You can connect to Bluetooth using easy finger taps and gestures and control your phone, laptop, VR headset, tablet, Smart TV, etc. Tap works with all mouse and keyboard input applications or devices.
AirPods Pro is Still The Favorite Accessory For iPhone Of All Time & It's On Sale
Like playing chords on a piano, the tapping motion is similar. The character or keyboard command is the same as every 'chord.' Certain characters – vowels – only have to tap one finger, while others need to tap several fingers. For instance, two adjacent fingers touch the most common consonants, N, T, L and S. "N" is the thumb and index finger, "T" is the index and middle finger, "L" is the middle and ring finger, and "S" is the ring and pinky.
A tap can emulate the default mouse in Air Gesture Mode, so you can move the cursor by moving your hand and by clicking on a single finger and flicking left and right activating the mouse clicking. By extending two fingers and flicking in the scroll's direction, you can scroll. By clicking together your thumb and index finger you can access the Home screen and the App Switcher if you are paired to an iOS device.
The Tap Strap is an optical mouse of 1,000 DPI. Tap automatically turns into a mouse when you set your thumb on a surface. With small movements of your thumb, you move the cursor and use finger taps to control the mouse clicks. Tap your index finger and tap your middle finger to RIGHT CLICK. All the basic mouse commands like drag-and-drop and scrolling are provided with clicks. Automatically lift your hand from the surface and Tap turns back into a keyboard.
Did You Know About This Apple Watch Leather Band? It's On Sale For $17
You can easily input text to look for and communicate social applications on your Quest headset using Oculus' native Hand Tracking & Tap Strap. Without the handheld controllers, you can type on any surface without looking at your hands.
You can enable swipes, shortcuts, and game click with intuitive Air Gestures. You can now play mobile and tablet games with 6-degrees of Plug & Play freedom!
Note: "We may receive a commission when you purchase products mentioned in this website."