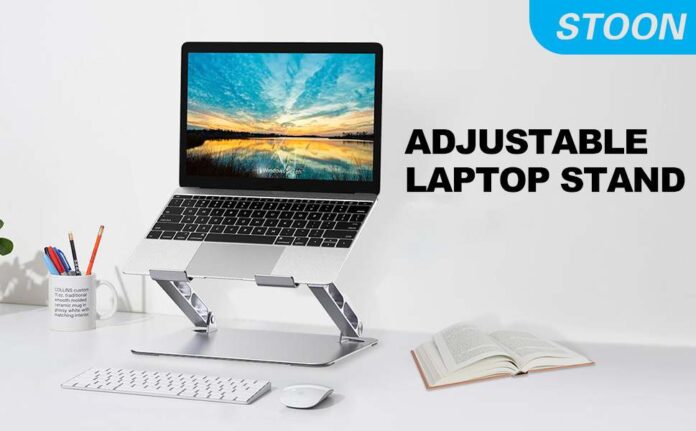 STOON via Amazon is offering the adjustable laptop stand today for just $22.09(previously sold for $26). Without applying any special coupon code at the checkout, you save 15 percent which is almost equal to $4.
By pushing and pulling, the height and angle can be freely changed. The adjustable laptop stand allows you to find the perfect viewing height whether you're sitting or standing, which enhances body balance and relieves neck, back, and eye strain. An excellent choice for working at home or in the workplace.
MacBook Accessories: Amazon's Highly Rated Laptop Sleeve Is On Sale For $13.28
Heat is easily absorbed and dissipated by 100% aluminum alloy content. Furthermore, the ventilation holes and adjustable height provide natural airflow space under the laptop, which greatly aids laptop cooling and prevents overheating.
Zealife 96W USB-C Power Adapter For MacBook Costs Just $32 Today (25% OFF)
The laptop riser is made of premium Aluminum alloy and is both sleek and durable. It can accommodate up to 6kg (13 lbs) without wobbling. The laptop is protected from scratching and slipping off by two protective hooks and silicone pads on the panel. The bottom silicone pads secure the laptop holder in place.
The durable computer stand accommodates laptops ranging in size from 10″ to 16″. Compatible with all iPads and tablets, as well as MacBook, MacBook Pro, MacBook Air, Asus, Sony, Dell, HP, Toshiba, Lenovo, Chromebook, and other notebooks.
Replace Your MacBook USB-C Ports To USB 3.0 With This Discounted $8 Accessory!
The notebook stand folds up for easy storage and transport. It can accommodate a range of items, including a laptop, tablet, projector, menu, book, magazine, and more. A useful present for your friends and family.
Note: "We may receive a commission when you purchase products mentioned in this website."