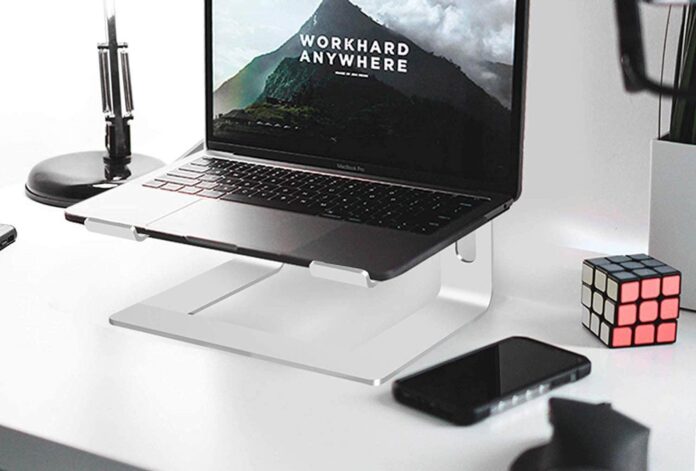 The Soundance Aluminum Laptop Stand is available for $11.99 on Amazon. At checkout, use the code R8OWD323 to save $12 extra. It recently dropped to around $24 from its daily going rate of $30, and today's offer beats our last mention by $3, marking a new all-time low that we've tracked. This stand is compatible with computers with displays varying from 10- to 15.6-inches in height, so it should fit with the vast majority of computers. This is useful if you want to use your laptop as a second monitor when working or simply use the internal screen to perform daily tasks at a more ergonomic height. It also keeps your laptop cooler when you're using it because it elevates it and allows for better airflow. 4.8 out of 5 stars.
The laptop stand is compatible with all laptops with a screen size of 10 to 15.6 inches, including notebook PC computers with screens sizes of 10 inches, 11 inches, 12 inches, 13 inches, 13.3 inches, 14 inches, 15 inches, 15.4 inches, 15.6 inches, and so on.
Vava USB-C Hub for MacBook Pro/Air Hits An All Time Low Price At $35
The office computer stand is made entirely of thickened aluminum alloy, making it more stable and less wobbly. The rubber on the holder's hands grips your laptop firmly and keeps it steady on the stand. The rubber feet keep the stand from sliding around on your desk. Furthermore, the stand is detachable and simple to assemble without the use of tools, making the lightweight laptop stand truly portable.
The slim lightweight stand raises your laptop 6 inches to eye level and prevents you from hunching over your computer, reducing neck and shoulder pain. Furthermore, the stand's edge is so smooth that it prevents you from being scratched.
Get Your MacBook The 2 Pack Of NIMASO USB-C to USB Adapter For $7
Since the ventilated elevator desk stand only has two holder hands rather than a full flat, there is more room for heat to escape to prevent your notebook computer from overheating. You can also store your office supplies, such as your keyboard and mouse, under the thin stand. The laptop stand is easily disassembled into three pieces. You can quickly disassemble it and reassemble it.
Note: "We may receive a commission when you purchase products mentioned in this website."