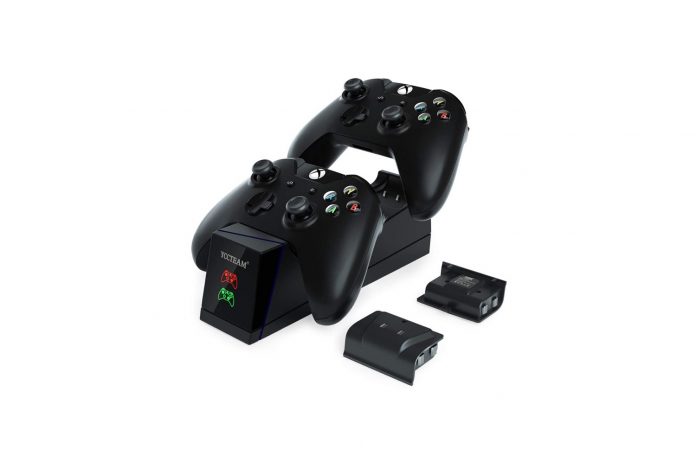 The YUCCTEAM Xbox One controller charger is offered via Amazon for $25.23. Today's deal is one of the best prices we have tracked in 2020 and the lowest price available, down from $30. While Sony is shipping its DualShock 4 controllers, Microsoft has yet to join this crowd. This kit contains two rechargeable batteries which are Xbox One and Elite compatible controllers and has even a rechargeable station to maintain all power. 4.4/5 stars rated.
Product Highlights:
Battery Pack for Xbox One: The rechargeable battery has a capacity of 1200mAh, which is more durable than the other 500mAh and 1000mAh products. When fully charged, it will maintain 8-10 hours of playtime. Compared with disposable AA batteries, this rechargeable battery can save more money and make a great contribution to the environment. This charging station has been upgraded to support a variety of Xbox One controllers, such as Xbox One, Xbox One S, Xbox One X, and Xbox One Elite controllers
Game Controller Charger indicator: This controller charger for Xbox has LED Indicator light, you can check the battery level of your Xbox One controller anytime. The battery indicator is in the front of the screen on your charging station for Xbox, red LED charge indicators turn to green once controllers are fully charged. This charger has charging protection. When the battery is fully charged, you don't have to worry about damage to the controller even if you forget to remove the battery in time
Charger Station and 2 charging modes: We designed this charger for Xbox to have a stand function, and the original intention was to store your Xbox controller when you don't need to charge. At the same time, you can easily find it when you need it. Because each section is individual, it can charge one controller at a time or even just the batteries. Since it can charge the battery directly, we recommend that you purchase two sets at a time, so you don't have to worry about breaking the game.
Controller charger for Xbox with 3 different shapes: Regarding the controller charger for Xbox One, YCCTEAM has released three models with similar functions but different shapes to meet your different needs. Search for "YCCTEAM Controller Charger for Xbox One" at Amazon. They all support charging the Xbox One, Xbox One S, Xbox One X, Xbox One Elite wireless controller.
BUY IT NOW: You can get a reliable, high-quality battery pack that runs perfectly to charge your Xbox controllers. If you have any question with the YCCTEAM controller charger on pre-sale or after-sale, please feel free to contact us, all messages would be replied within 24 hours.
Note: "We may receive a commission when you purchase products mentioned in this website."