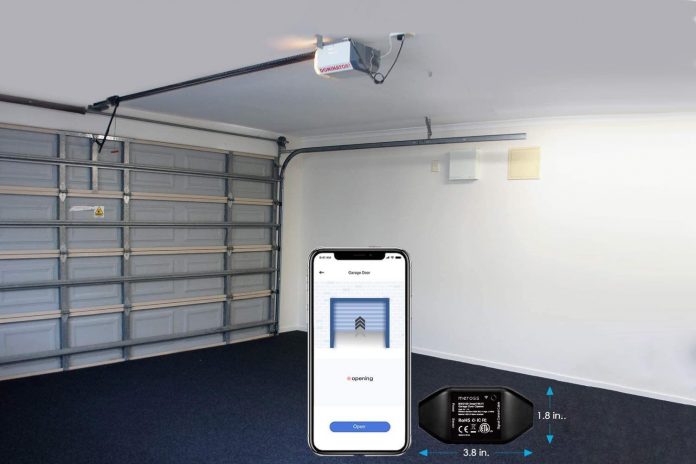 Milesi Home offers the Meross Wi-Fi Smart Garage Door Operator via Amazon for $28.24 with VQTUAHVS code and an on-page voucher. Normally $45 is one of the best prices we have tracked today and the lowest. If you still open your garage door with a remote or a keycode, it is time to upgrade it. You can add Wi-Fi to nearly any door in the garage and extend your smart home further. It supports a complete experience for Alexa, Assistant, and SmartThings. 4.4/5 star rating.
Product Highlights:
Be Smart: Make your existing garage door smart. Remote and Voice Control, just tapping the meross /'mɪrɚs/ app from anywhere or speaking to your Alexa, Google Assistant, or SmartThings devices. To let in your family, guests, or couriers through the garage door while you are cooking or not at home. No monthly fee or any other subscription fee! Please scroll down and check in the "Technical Specification – User Guide" to see the latest voice control usage.
Compatibility Check: Please scroll down and check in the "Technical Specification – Application Guide" whether your garage door model is in the compatibility list. Also, you can check if your garage door model is in the compatibility list on meross /'mɪrɚs/ official web.
Multiple Notification Modes: Stay alert by different notification modes such as garage door open/ close status, overtime notification, and overnight notification to remind you to close the garage door. And you can check the garage door open/ close operation records through the APP.
More Precise and Stable: It comes with a high sensitivity sensor that monitors the status of the garage door more accurate and the signal stays stable. With an adapter convert 110v to 5v, much safer.
Easy to Install: Installation is much easier than you may think. Pls make sure your wifi strength is acceptable near your garage door. This is the upgraded version, which has solved the interference issues our old version may cause to some garage door remotes. If you still find its interference with your original garage door remotes, please contact support@meross for help. We have a solution for you.
Note: "We may receive a commission when you purchase products mentioned in this website."