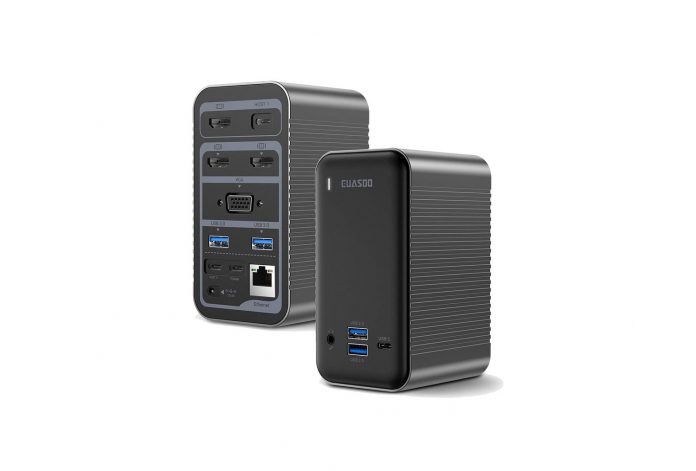 The EUASOO USB-C Docking station is offered via Amazon for $99.99 with the on-page coupon. This is a new all-time low and we have been tracking the first discount since this dock was announced earlier this summer. If you use one of Apple's latest MacBooks, it could be particularly helpful to have such a docking station. Multiple USB-A and C ports with HDMI out, VGA and Gigabit Ethernet are available here. The forward-facing ports are one of the key features, which can easily be connected to the headphone jack via USB-C or A. Up to three displays with a Mac or four can also be supported if you are rocking a PC. 4.4/5 star rating.
Product Highlights:
Compatibility: Plug and play, no driver required. The EUASOO docking station is compatible with the latest laptops and smart devices with Type C port. To use this product, please make sure your host with USB C port supports DisplayPort Alt Mode (USB 3.1 Gen2 Type-C). The docking station is not compatible with USB-A to USB-C adapters.
Quadruple Display for Windows: When you have two hosts with a Windows system, the docking station supports up to quadruple display on external monitors. Only a triple display is supported for one Windows host. HOST1 expands to the HDMI1 monitor. HOST2 can expand to HDMI2 + HDMI3 + VGA, and support Triple display. Note: For HOST2, when three external monitors output video simultaneously, the Windows laptop will be a blank screen.
Triple Display for macOS: For macOS host with 2 type c ports, connect up to 4 monitors: HDMI1 + HDMI2 + HDMI3 + VGA. It only supports Triple Display for macOS: HDMI1 + (HDMI2 + HDMI3 + VGA) + HOST, and ( HDMI2 + HDMI3 + VGA) only have the same display.
4K HD Resolution: HDMI resolution up to 4K@60Hz when your laptop supports DP1.4. If the input source only supports DP1.2, HDMI resolution up to 4K@30Hz. 2560×1600, 1920×1080 (1080P ) and lower resolutions will be displayed at 60Hz. When the VGA port is connected, the resolution of HDMI2 and HDMI3 will be limited to 1920x1080P@60Hz. USB C 3.0 port and the two USB 3.0 ports on the front of the dock support both data transmission and charge for USB-C peripherals devices.
EUASOO Universal 15 in 1 Docking Station: Feature three 4K HDMI, VGA, Gigabit Ethernet, 3.5mm Audio/Mic 2-in-1, 4 high-speed USB 3.0, USB-C 3.0 for data transmission and charging of type C devices, 2*USB C(in), PD port, 55W DC power input powers the docking station and host system. Package includes 1 EUASOO Docking Station, DC power adapter, 2*USB-C to USB-C cable, User Manual. 100% refund or replacement due to quality issues within 30 days, 12 months warranty.
Note: "We may receive a commission when you purchase products mentioned in this website."