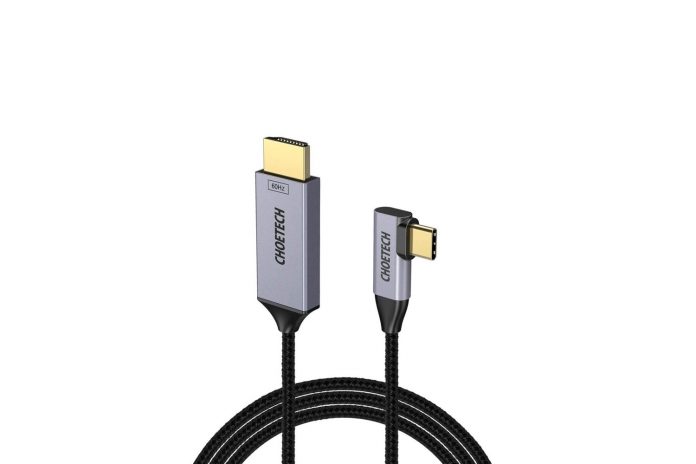 From our guide to the best USB-C video cables and adapters, this is a new low price down to $15 with the on-page coupon. The Choetech USB-C to HDMI Cable was especially well designed with its right-angle connector to reduce the stress on the USB-C port, whereby all cables we tested in this category were almost identical in performance. Normally around $19, it is by no means a dramatic price drop, but recent sales have been difficult to achieve. If you want to add a compatible laptop or other equipment to an HDMI monitor or TV, the price on the top pick is still good.
Product Highlights:
4K x 2K@60hz HDMI Resolution – The USB C to HDMI cable can directly steam Ultra HD 4K (3840*2160) 60hz / 2K/ 1080p/ 3D videos to your 4K HDMI-equipped monitors, HDTV, Projectors from USB-C laptop or Smartphones. The 60hz fast refresh rate is great for working, presentation, stunning photos, 4K video, document scanning, and enjoy a better visual feast with your family. (*Note: For iPad Pro 2018, video resolution up to 2560 x 1440 @60Hz due to the iPad Pro 2018 uses the DisplayPort protocol)
USB-C & Thunderbolt 3 Compatible – Works with USB Type C and Thunderbolt 3 port computers with DP Alt mode such as 2019/2018/2017/2016 MacBook Pro, 2017 iMac, 2016/2015 MacBook, iPad Pro 2019/2020, MacBook Air 2018/2019, ChromeBook Pixel, Surface Book 2/GO, Dell XPS 15 9360, XPS 13-9350-R1609 13.3″. USB C Smartphones only supports Samsung Galaxy Note10/Note 9 /Note 8 / S20, S20 Plus, S20 Ultra,S10 /S10 Plus / S9/ S9 Plus/ S8/ S8 Plus, HTC U11, Huawei Mate 10/P20/Pro etc.
Upgrade Business USB-C Cable & Portable – The USB-C HDMI cable is designed in the right width on the USB-C laptop and engineered with your workspace in mind. Made to be compact and highly portable Type C HDMI adapter cable. Just tuck it into your bag, pocket, or wallet while you're on-the-go. Noted: For iPad Pro 2018, only a few applications are applicable to the full-screen display
High-Performance HDMI Signal – Manufactured from high-purity coaxial cable, protects against EMI. Corrosion-resistant gold-plated USB C and HDMI port enhance contact conductivity, enables us to drive one or two HDMI monitors/displays, up to 4K@60Hz resolution. Compatible with HDMI-enabled TVs/Monitors/Projectors for both video and audio transfer
Soft & Durable Braided Nylon – The USB C to HDMI cable's durable braided outer layer added cord protection and flexibility. The softer and finer nylon braided USB Type C to HDMI Cable design with premium aluminum housing gives it a stylish appearance, resistant to kinking, bending, and environmental damage.
Note: "We may receive a commission when you purchase products mentioned in this website."