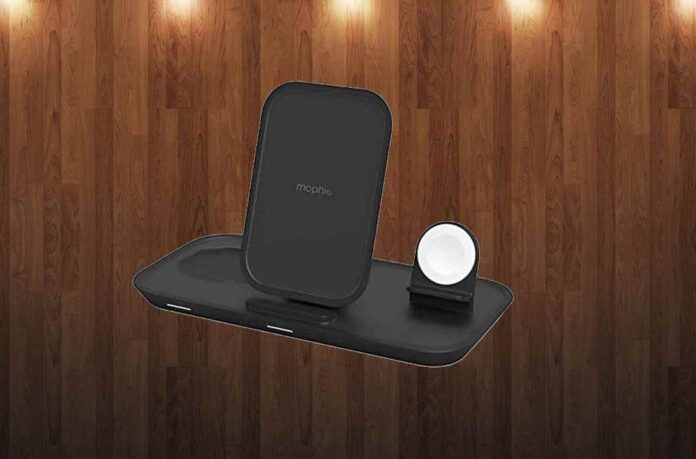 The new mophie 3-in-1 iPhone Charging Station is available today on Amazon for $93.91. Normally $140, today's deal saves you 33%, is $11 cheaper than our previous mention and is a new all-time low. This is one of the newest additions to mophie's portfolio of Apple chargers, having only released in September. It has a 7.5W Qi charging pad for your iPhone, as well as an Apple Watch puck and a 5W divot for charging AirPods and other accessories. This is a fantastic way to tidy up your nightstand, with over 60% of customers giving it a 4+ star rating.
You can conveniently charge all of your daily accessories in one central location, thanks to dedicated spots for your iPhone, Apple Watch, and AirPods/AirPods Pro. The simple charging stand allows you to charge your iPhone in portrait or landscape mode.
Get Your iPhone The Linkcool Octopus Tripod with Wireless Remote For $11.89 (15 Percent OFF)
Waiting for your phone to charge is a waste of time. For a quicker charge, the 3-in-1 wireless charging stand is designed to comfortably deliver up to 7.5W of power to your iPhone.
This $20 Leather Band is Great To Style Your Apple Watch (15% OFF)
In Nightstand mode, a dedicated location for your wireless AirPods ensures charging starts on touch and doesn't block your watch's screen. The watch's built-in magnetic charger keeps it at the perfect angle for Nightstand Mode.
Protect Your AirPods Pro From Fall With This $9 LitoDream Marble Case
The 3-in-1 wireless charging stand is more than just functional, it's also stylish! The gloss finish is smooth and elegant, and it adds a touch of elegance to every tabletop. iPhone 11 and previous versions are supported. You can notice a slower charge while using the iPhone 12s.
Note: "We may receive a commission when you purchase products mentioned in this website."