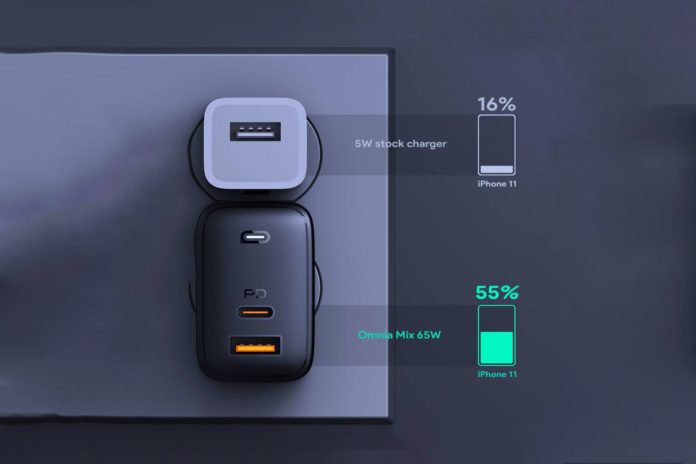 I think that I need a separate bag for all the adapters and cables I need to load all my gear if I travel anywhere these days. I've got a big brick with various cords for my MacBook, and there are a separate USB-C connector and a USB-C to Lightning cable for my iOS device. My Apple Watch obviously requires the special Apple wireless charge disc and its miles-long cabling, and it needs a different micro-USB cable and wall adapter for my Kindle eBook reader. Yeah, and then I need a standard USB-C charger and a portable power bank adapter that I take around with me. Short story, it's a huge butt pain.
You can see why I'm so excited when Aukey sent me the new AUKEY Omnia 65W Fast Charger dual-port before it was launched. It is 50 percent smaller and about 50 percent lighter than the wall adapter of the MacBook and has a total power output of 65W. You can attach it to your laptop only and charge it to a complete 65W, or you can plug in a second cable and load easily at full speed the iPhone or iPad while your laptop loads at 45W.
AUKEY Omnia Dual-Port 65W Quick Charger has two different versions and both are on sale right now at Amazon. The Dual Port USB-C PD and USB-A model can now be purchased at $50 but can be purchased at $46.99, and the model with two USB-C PD ports can be purchased at $54.99 rather than $60. I now have the latter with me, so I can charge my iPhone 11 Pro easily while I charge my MacBook too.
Note: "We may receive a commission when you purchase products mentioned in this website."