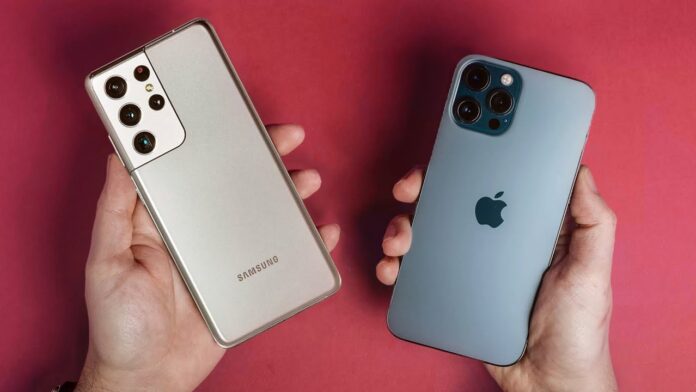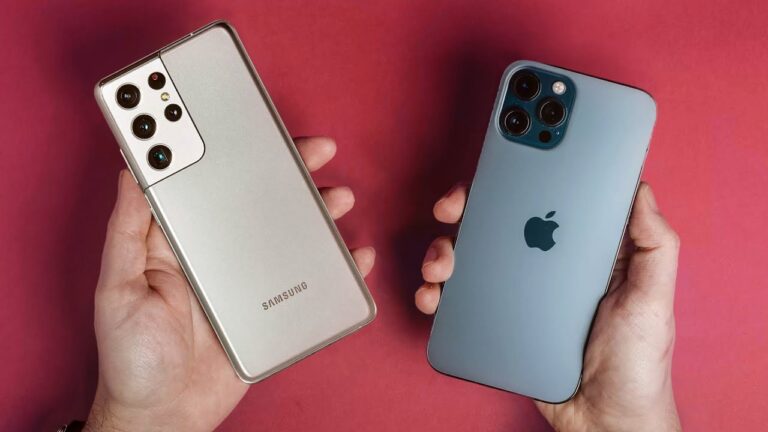 If you're looking for a new smartphone, the choice is almost certainly between an iPhone and a Samsung Galaxy.
You might want to look at Apple's iPhone 12 Pro and Samsung's Galaxy S21 Plus if you're looking for something slightly higher than standard smartphone specs.
Both have large OLED displays, professional cameras, long battery life, and a variety of other noteworthy features.
Our comparison of Apple iPhone 12 Pro vs Samsung's Galaxy S21 Plus on specs and price follows.
DISPLAY
The iPhone 12 Pro has a 6.1-inch display with a resolution of 460 pixels per inch (PPI), which is higher than the 394 PPI of the Galaxy S21 Plus. The Galaxy S21 Plus, on the other hand, has a screen that is nearly 10% larger than the iPhone 12 Pro's, measuring 6.7 inches.
However, thanks to the use of vibrant and colorful OLED screens on both devices, neither phone's display should disappoint, regardless of size or resolution.
Another significant difference between the two displays is that the Galaxy S21 Plus has a 120Hz refresh rate, which allows for a more fluid experience when scrolling web pages and playing games. Apple has stuck with the standard 60Hz refresh rate for the iPhone 12 Pro, despite rumors that the device would get a 120Hz refresh rate.
DESIGN
The iPhone 12 Pro features a squared-off, flat-edge design, which is one of the most noticeable improvements. As a result, the iPhone 12 Pro is a boxier device than previous generations' curved-edge iPhones. The border that previously separated the display and the stainless steel enclosure was also removed in last year's redesign, making the iPhone's glass flush with the body.
This design approach, however, is similar to the one used by Samsung in recent years for some of its Galaxy S series phones, such as the Galaxy S21 Plus, which has a similarly flat display (without the curved edges of some past Galaxy models).
5G Support
With the introduction of 5G in the iPhone 12 series, Apple can finally compete with Samsung's Galaxy devices in terms of high-speed 5G connectivity.
Since mid-2019, Samsung has launched a slew of 5G phones, making it a standout in the smartphone market. Of course, the Galaxy S21 Plus is no exception.
Both the iPhone 12 Pro and the Galaxy S21 Plus support the two major 5G versions in terms of 5G service. In other words, both phones support the fastest 5G service, known as mmWave, as well as sub-6GHz 5G connectivity, which is the most widely used variant of 5G.
BUY SAMSUNG GALAXY S21 Ultra At $200 OFF
BUY UNLOCKED iPhone FOR DIRT CHEAP PRICE AT AMAZON
UNDER THE HOOD COMPARISON
The performance of the two phones in our comparison should not be noticeably different. The Galaxy S21 Plus is equipped with Qualcomm's new eight-core Snapdragon 888 processor, whereas the iPhone 12 Pro has a six-core A14 Bionic processor. Although Apple's A-series chips have historically outperformed Qualcomm Snapdragon chips, Geekbench's 5 benchmarks only show a modest performance advantage over the Snapdragon 888 for the A14 Bionic.
There are two RAM and storage configurations available for the Galaxy S21 Plus. The internal storage options are 128 GB or 256 GB, with 8 GB of RAM in both cases.
The iPhone 12 Pro has more internal storage options, but it has less RAM. The iPhone 12 Pro is available to buyers for a choice between 128 GB, 256 GB, or 512 GB of storage and 6 GB of RAM on your phone.
CAMERA
The iPhone 12 Pro has a triple rear camera system, each with 12 megapixels, with ultra-wide, wide, and telephoto lenses. The wide camera is new and has an enhanced aperture of 1.6.
A new image signal processor for photo quality improvement, Dolby Vision HDR video recording, and a LiDAR scanner are further key features (for enabling improved augmented reality and faster autofocus in Night Mode). The device also has a large sensor on its large camera, which enables better photographs in low light and up to 10X digital zoom or 4X optical zoom.
Three cameras are also on the back of the Galaxy S21 Plus. A 64-megapixel camera and a pair of 12-megapixel cameras feature in the phone's camera setup (wide-angle and ultra-wide).
The camera system S21 offers a space zoom of up to 30X as a new zoom locking feature for zooming purposes which allows clearer pictures by compensating shaky hands during zooming.
BATTERY LIFE
In terms of battery life, Samsung isn't promising any specific hours of usage for the Galaxy S21 Plus, instead of pointing to the device's large battery, 4,800 mAh, as proof of the device's long battery life.
That's a lot more power than the iPhone 12 Pro's battery, which is rated at 2,815 mAh. However, Apple has a sense of battery life on the iPhone 12 Pro, where the company says the device can play video for up to 17 hours.
OTHER FEATURES
The iPhone 12 Pro's re-design has also improved the device's durability. The display is made of Apple's "Ceramic Shield" material, which allows for 4X better drop protection.
Meanwhile, MagSafe accessories can now be magnetically attached to the iPhone 12 Pro. As a new way to provide wireless charging, the accessories can snap onto the back of the phone.
Improved support for the DeX Android desktop is another key feature on the Galaxy S21 Plus. In addition to wireless connectivity to displays supporting Miracast, the S21 Plus now supports wireless DeX connectivity on PCs and Macs.
PRICE
Apple and Samsung have agreed on identical pricing for the entry-level models of the iPhone 12 Pro and Galaxy S21 Plus, which both have 128 GB of internal storage. That is, the starting price for both the iPhone 12 Pro and the Galaxy S21 Plus is $999.
BUY SAMSUNG GALAXY S21 Ultra At $200 OFF
BUY UNLOCKED iPhone FOR DIRT CHEAP PRICE AT AMAZON
Note: "We may receive a commission when you purchase products mentioned in this website."