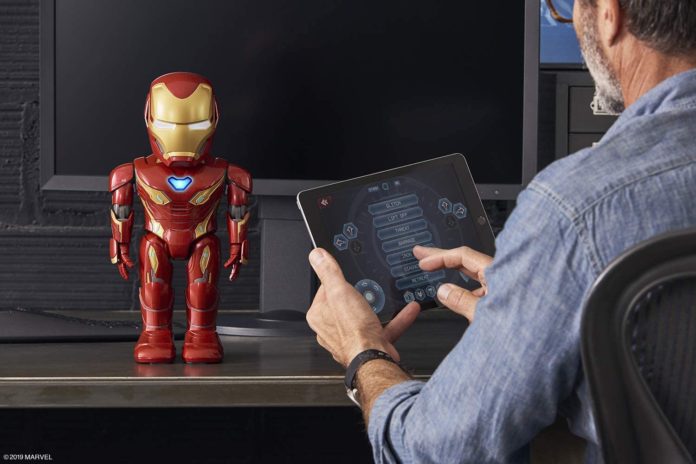 The UBTECH Marvel Avengers Iron Man MK50 Robot is currently offered by Amazon for $149. After selling for $250, we saw it go for $200 more recently. Today's offers save 25 percent, which puts a new Amazon low, above our previous mention. This robot is full of lights and sound effects from the film with Iron Man's MK50 Armor out of the Infinity War. It is about 12-inch high and can be controlled by an iPhone app that also offers gameplay with increased reality and more. In the helmet, there is even a holographic display allowing you to talk to Tony or even to put your own image into the famous suit. 4.4/5 stars rated.
Product Highlights:
Create, control, code, and battle against enemies inspired by iconic Marvel Cinematic universe battles.
Control the robot's motors, lights and sounds using a mobile device; complete augmented reality (AR) missions; customize by uploading your face and recording Audio phrases; code original, unique action sequences that only your robot can perform!
Become immersed in augmented reality (AR) missions to build up your iron Man Mk50 robot's arsenal of Nanotech weaponry. As you complete different levels, earn new weapons and PA your armor to take on greater threats.
Encounter specialized enemy drones inspired by Iron Man's iconic villains, like the Chiari and Ebony maw.
Customize the iron Man Mk50 robot by building unique sequences using Block-Based programming for one of a kind hero moves. Use custom blocks to code your own scripted sequences into the iron Man Mk50 robot.
Play as Tony Stark and suit up in the iconic Mk50 armor to practice your battle skills or use a mobile device to upload your face and custom audio recording to the iron Man Mk50 robot.
In custom protocol mode, use the visual drag-n-drop programming editor to create simple, custom iron Man scripts without requiring any programming knowledge.
Device COMPATIBILITY: app requires 1 GB RAM, works with Apple iOS 11. 0+/ iPhone 6S+/ iPad Pro+ and Android 7. 0+. best experienced with devices with ARCore.
Skill Level: All
Material Type: Plastic
Note: "We may receive a commission when you purchase products mentioned in this website."