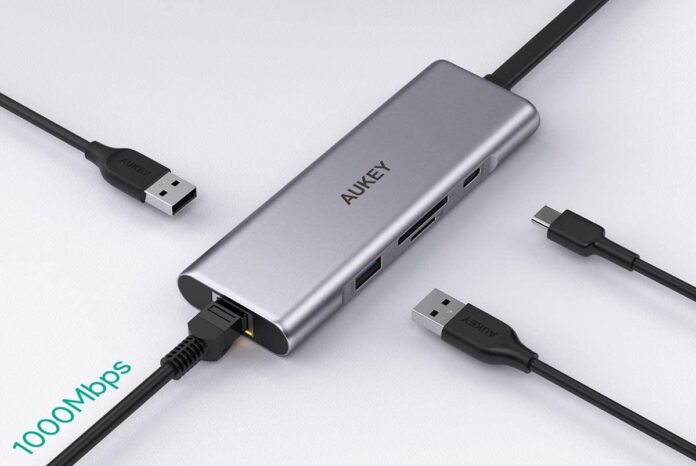 If you're looking for a convenient way to the plugin, check out the AUKEY 9-in-2 USB-C Hub with Ethernet & HDMI port. You will be able to easily charge your devices, grab extra storage, and even hook your laptop up to dual screens for only $48 with the promo code 23A8YJP6. What more do you want?
You can convert two side-by-side USB-C MacBook Pro or MacBook Airports into 2 4K HDMI ports, 1 USB-C data port, 1 USB Power Delivery pass-through charging port, 2 USB ports, 1 Gigabit Ethernet port, 1 SD card slot, and 1 microSD card slot. A multi-purpose, lightweight, and portable docking station to meet all your needs.
Industry-leading triple-display technology, ahead of most USB-C hubs on the market. AUKEY 9 in 2 USB C Docking Station offers you a crystal clear screen from 1HDMI for 4K 3840 * 2160@60Hz, 2HDMI for 4 K 3840 * 2160@30Hz with ultra-HD image and video output. Using the two HDMI ports, mirror or extend your MacBook screen to dual 4 K displays.
This Cheap Solar Keyboard is Compatible With MacBook, iPad And Even An iPhone
Up to 100W Power Delivery is supported by the USB-C pass-through charging port to keep your 16-inch MacBook Pro with Thunderbolt 3 or another compatible laptop fully charged (using your device's original power adapter) while you are using all the other hub features. Data transfer rates of up to 5Gbps are supported by the USB-C data port, two USB ports, and SD & microSD card slots. Gigabit Ethernet supports network speeds of 10/100/1000Mbps.
MacBook Pro 13-inch 2016/2017/2018/2019/2020, MacBook Pro 15-inch 2016/2017/2018/2019, MacBook Pro 16-inch 2019, and MacBook Air (Retina 13-inch) 2018/2019/2020 compatible with the AUKEY 9 in 2 USB C Hub.
Note: "We may receive a commission when you purchase products mentioned in this website."