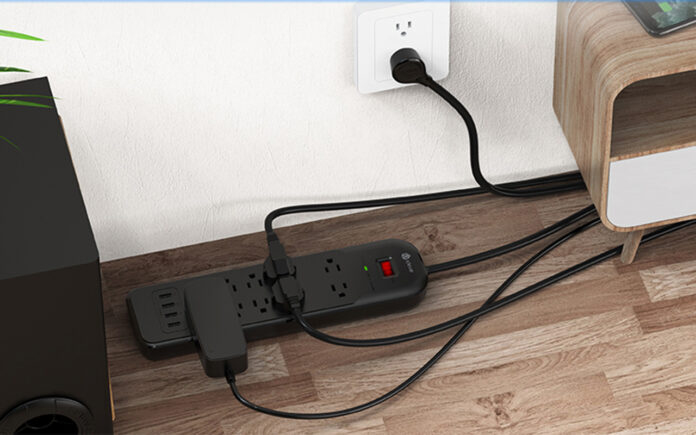 After clipping the on-page 30% off coupon, Amazon is offering the iClever 10-Outlet/4-USB Surge Protector for $14.69. Orders above $25 will qualify for free shipping if you are not a Prime member. A recent price cut, combined with an on-page coupon, results in a 33 percent discount, making this the lowest price we've ever seen. This surge protector is here to save the day if you have an area at home that is in desperate need of some more electricity. It multiplies a single outlet into ten and provides four 2.4A USB connections. With so many slots available, you won't have to worry about choosing which gadget to turn off in order to make room for something else.
Backup Your iPad & MacBook Storage With The SanDisk 256GB USB-C Flash Drive For $29 (41 Percent OFF)
Product Highlights:
10AC power strip surge protector outlets(2100 Joules) including 2 widely spaced outlets & 8 regular Outlets, 4 USB ports (5V/4.8A, 24W), 6.6ft heavy-duty extension cord (1875W/15A), Surge protector indicator, ground protection indicator, and 15A overload protector switch.
Built-in smart charging technology, the USB ports will detect your devices automatically and deliver the fastest charge speed up to 2.4A ( 5V/2.4 Max Each Port), 4 USB ports (Total 4.8A/24W) can charge almost any USB device. powerstrip is able to withstand temperatures up to 1380℉(750℃), allowing a longer lifespan.
The unique 45-degree power strip flat plug can be easily installed in narrow spaces, such as sofas, bedside tables, and will not block the bottom sockets, realizing space utilization. iClever power surge outlet with our friendly customer service will respond to you within 24 hours!
This surge protector power strip provides a 2100 joules surge protection energy rating, which can protect your laptops, printers, and other appliances against surges and spikes. And the reliable overload protection switch will shut off automatically to safeguards your electrical appliances, such as computers, TV, other electronic devices, especially your house when the power overload.
FCC Certified, this USB power strip with 6.6 ft pure copper heavy-duty UL listed power cord and integral copper bar improve product conductivity, durability and reduce heat build up. 2 keyholes on the back, allow you hung the surge protector easily on the wall with screws, it could be used as wall-mounted workshop outlets.
Note: "We may receive a commission when you purchase products mentioned in this website."