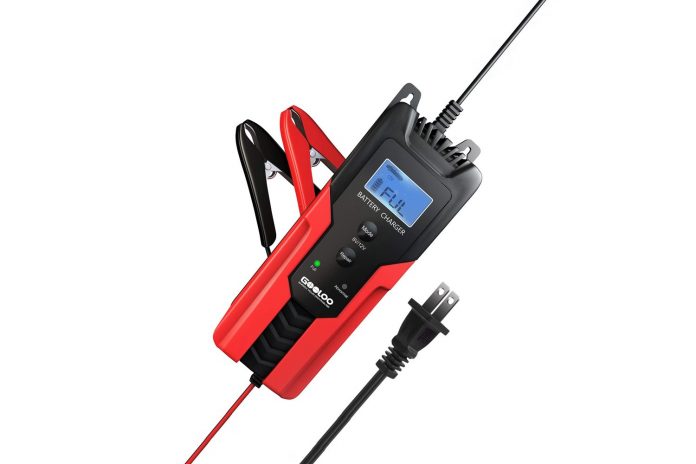 GOOLOO offers its 6V/12V 6A Battery Charger/Maintainer from Amazon for $29 with the on-page coupon from the product page. Usually, over $35, today's pricing is the best we've seen and the lowest available. Like someone with a vehicle not often driven, a battery maintainer is a must-have. This ensures that your battery does not dissipate due to non-usage over time and can even be used to charge a dead battery if you forget to connect it to maintenance mode. It works on 6V and 12V batteries, making it superb for a variety of applications. 4.4/5 stars rated.
Product Highlights:
COMPATIBILITY- Works with all types of 6V and 12V lead-acid batteries that less than 100Ah, such as AGM, GEL, SLA, Flooded(WET), Calcium type deep cycle automotive or marine 4.0Ah-100Ah 12V battery. GOOLOO battery maintainer charger is a great choice for cars, trucks (small), motorbike, lawnmowers, tricycles, electric vehicles, agricultural vehicles, off-road vehicles, pickup trucks, boats, yachts, motorboat.
6-STAGE AUTOMATIC CHARGING – 12V battery charger operated with 6 stages automatic charging process by MCU controller: desulfation, soft start, bulk, absorption, battery test, floating/trickle to indicate the quantity of electricity and monitor the whole charging progress. Stop automatically when the battery is fully charged. (Cautions: Only 12v battery supports trickle charging)
SMART BATTERY MAINTENANCE – Maintain various types of 6V 12V lead-acid batteries that more than 100Ah. Intelligent control system, strong pulse repair technology, remove vulcanization, repair slightly damaged batteries, reduce water loss, can extend the battery life. Make your battery more powerful.
INTELLIGENT DETECTION & INTUITIVE LCD SCREEN – When low-voltage, vulcanized or capacity loss is detected, LST battery maintainer charger directly prompt user to repair and charge or the battery has lost its value. And LCD screen displays charging status, battery voltage/current, battery status clearly, provide visual feedback and diagnostic information even when in maintenance mode.
MULTIPLE SAFETY PROTECTION FUNCTIONS – Made of fire retardant materials. Multiple security protection, such as over current protection, overcharge protection, overheat protection, reverse connection protection, short circuit protection, full charged stop protection, etc.
Note: "We may receive a commission when you purchase products mentioned in this website."