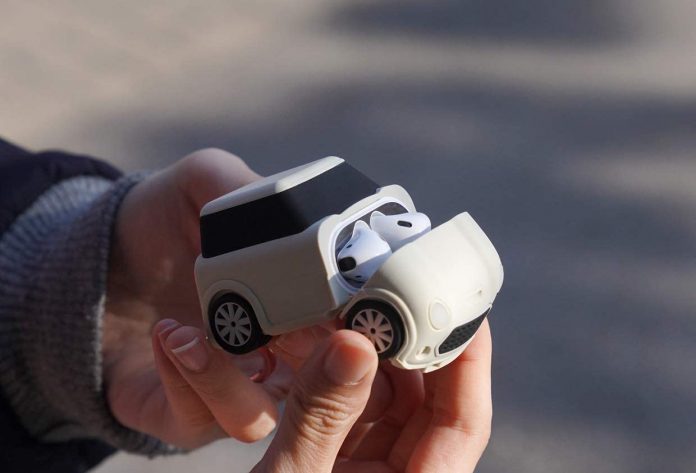 Elago's Amazon official storefront is now offering its new Mini Car AirPods case for $11.99. Typically, $15 is 23 percent. The latest debut of Elago brings stylishness to your earbuds in the popular Mini car both for the first and second generations Airpod. The soft silicone protects the cargo case from scratches and dents, and even the headlights glow in the dark for more fun. Rated from 115 customers 4.6/5 stars.
Product Highlights:
BUCKLE UP AND GET READY FOR the road trip! elago brings a fun, new design for your AirPods 1 and 2. Don't leave on your trip without being properly prepared with elago's new Mini Car Case!
HEADLIGHTS AND TAILIGHTS GLOW in the dark! NOT ONLY IS this case fun for EVERYONE, it is INCREDIBLY DURABLE and offers GREAT DROP PROTECTION. Made from PREMIUM SILICONE, this case was meant to LAST A LIFETIME.
HAVE ACCESS TO ALL functions and features of your AirPods with the case on! Experience no issues with WIRELESS CHARGING or PLUG the lightning cable through the back license plate.
PERFECT GIFT FOR any AirPods user and car enthusiast! Great for BIRTHDAY PRESENTS for loved ones and gifts during the holiday season – ESPECIALLY CHRISTMAS FOR STOCKING STUFFERS!
elago is a DESIGN COMPANY FIRST AND FOREMOST. Our motto is SIMPLE SOPHISTICATION because we create products that are USEFUL AND AWESOME! WE ALWAYS CREATE products that WE OURSELVES USE, so we know YOU WILL LOVE IT!
Note: "We may receive a commission when you purchase products mentioned in this website."