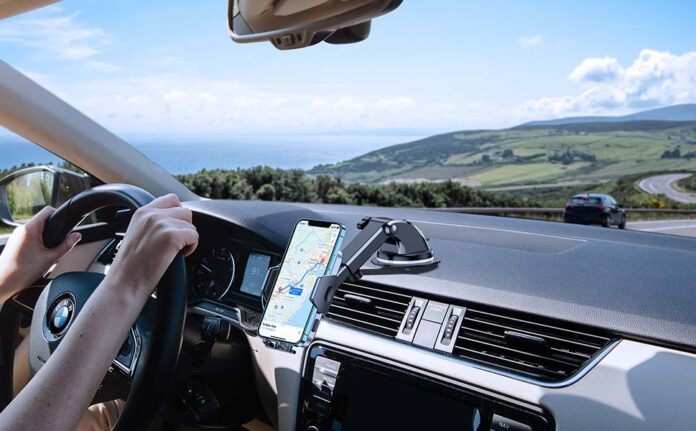 VICSEED via Amazon is now offering the Dashboard Windshield Air Vent Cell Phone Holder for $25.49. You don't need any special discount coupon code to save more on this mount, directly you can score a 15 percent discount.
Adaptable There are three different mounting options. Dash/Window/Air Vent, you can place this car phone mount wherever you want in your vehicle. This car phone holder mounts securely fits most vehicles and grips all 4-7″ phones firmly even with a thick case, saving you the frustration of a car phone holder mount that won't work.
This Popular 20W Dual Port Charger For iPhone & iPad Is On Sale Today For $6
The VICSEED car cell phone holder team includes world-class engineers and material suppliers, resulting in the highest quality vacuum suction cup on this car cell phone holder. The super-strong suction cup has three layers of nano sticky gel to prevent air gaps from forming, works great from 44°F to 194°F, has increased suction power up to 44lbs, and effortlessly holds heavy phones.
The car phone holder is military-grade certified and made of high-quality materials that will not break or melt in three years. Even if you go off-roading, your expensive phone will be safe. The phone car mount is made of all-around soft silicone that grips the phone tightly and protects it from scratches in any situation.
This $30 Active Noise Cancelling Wireless Earbuds Is The Best Apple AirPods Pro Alternative For Your iPhone
The long arm design brings the phone closer to you, allowing you to adjust the phone's position so that it can be easily accessed without blocking your vision. This car phone holder also allows you to position your phone horizontally and vertically, giving you the best viewing angle for navigation and making it the best driving companion.
It's The Right Time To Get This 10000mAh Power Bank Your iPhone At $11 (50% OFF)
Say goodbye to unsightly car phone holders with the VICSEED 2021 latest car phone holder mount, which has a platinum iPhone 12 appearance and a carbon fiber panel, giving you a sense of luxury and sleekness. Perfectly echoes the beauty of your cell phones and adds beauty to the interior of your vehicle.
Note: "We may receive a commission when you purchase products mentioned in this website."