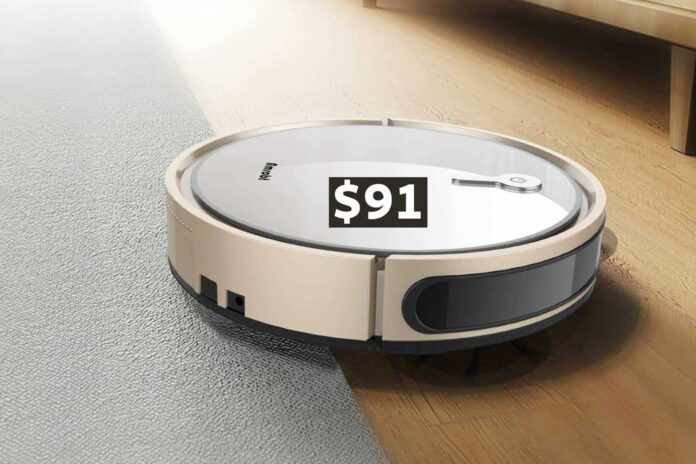 The Amrobt Robotic Vacuum Cleaner is currently being offered by Amazon for just $91.19 when you redeem 40KUUETC as a promo code. Normally $152, today's offer saves $60.8 which is almost like $61 off which is quite a better offer than the previous one. Not only getting the other tech for home makes your home complete one, but you should have a better vacuum cleaner. Amrobt Robotic Vacuum Cleaner is the one you should have for your home at the best price which is even smartphone app compatible. Missing this discounted vacuum cleaner for your home impact the great for the smart home.
Simultaneously Amrobt Robotic Vacuum Cleaner can mop your home, remove paw prints, or spilled milk for thorough cleaning. Vacuuming and mopping everything in one-easily handle dirt and grime. Don't suggest using carpet mopping.
Our robot vacuum cleaner App and remote control enable you to customize, schedule, monitor cleaning modes, and steering controls. (Requires 2.4GHz Wi-Fi network, if your home WiFi is a dual-band router, you must log in to the background settings of the router manager, switch off the dual-band function, and separate 2.4 G and 5G)). Also compatible with Amazon Alexa (download the link page instruction).
The robotic vacuum cleaner Amrobt is equipped with multiple cleaning options: automatic cleaning, spot clean, border cleaning, and zigzag. Cleaning and mop cleaning scheduled a longer time. Let it satisfy your vacuuming needs.
The 2600mAh lithium battery provides a runtime of up to 120 mins. The vacuum returns to the charging base automatically if its battery is low (110-240V). Ideal for cleaning different types of floors from hard to medium pile carpet (0-1,5 cm carpet).
The anti-scratch glass top offers the robot great protection. Using smart sensor technology to prevent collision & drop, it can effectively prevent unnecessary crashes and drops. 1600 Pa of intense suction easily picks up dust, crumbs, dirt, and pet fur. (See: Special offers and product promotions-Get a set of gift accessories)
Note: "We may receive a commission when you purchase products mentioned in this website."