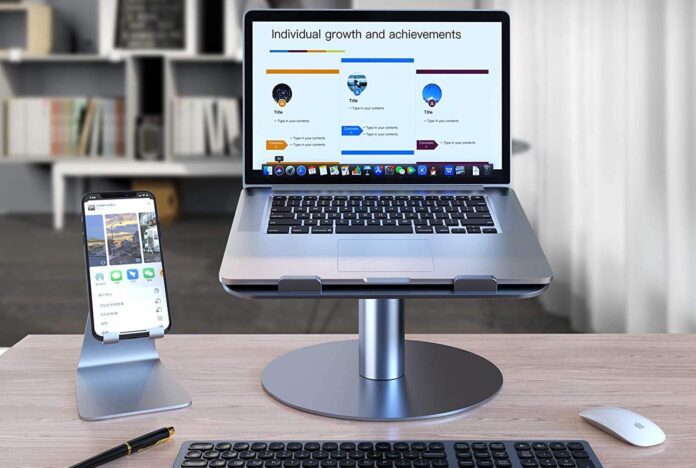 Today is the chance to get YoFeW Aluminum Laptop Riser for $40 with a direct discount. Usually 50, the deal today saves 20 percent OFF!
By pressing the button on the side of the stand, the YoFeW rotating laptop stand can adjust the height from 151mm/5 94inch to 199mm/7.83inch(48mm height adjustable) You can adjust it to the height as you like.
Not only can this swivel MacBook stand rotate 360 degrees, but also adjust the angle view according to your usage habits From 0 ° to 45 ° angle view – to fulfill all your desires with this notebook stand on the desk when using your laptop.
This Portable Monitor For MacBook Can Be Carried Anywhere You Go, On Sale For $133
The slim, compact stand raises your laptop to a perfect level of the eye and prevents your screen from hitting and building an excellent working posture to help reduce shoulder and neck pain. In addition, the edge of the notebook stand is so smooth that it will prevent scratching.
This laptop stand can be adjusted for all tablets and laptops from 10″ to 17," such as Google Dell XPS HP ASUS Lenovo Acer Chromebook and more 11inch – 17inch laptop laptops.
You can turn your laptop into a comfortable desktop setup when paired with a full-size keyboard & mouse. or use this YoFeW notebook stand to pair your laptop with a monitor for a larger workspace.
Note: "We may receive a commission when you purchase products mentioned in this website."