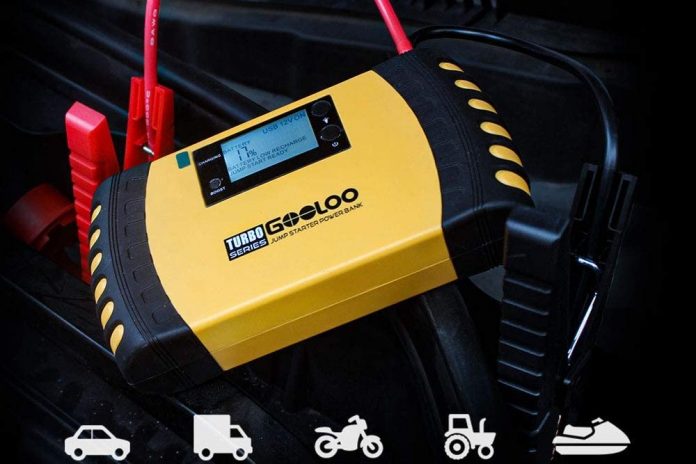 Oh, the joy of a larger car. It not only costs more for parking in just around every city I have ever been to but also for the jump starters. They often come for 40% off on the bright side, as is the case with the Gooloo jumper seen here. This 1500A jump starter — that can give your SUV, pickup truck, tractor, and yacht new life — cost usually $90. Get a high-end jumpstarter for $52 by the WIM4MMZV promotional code at the checkout. Thanks to its 20,800mAh power bank feature, you will never have to worry about your truck or phone dying again.
Product Highlights:
POWERFUL LIFESAVER: The GOOLOO GP200 Jump Starter is powerful enough to easily start most 12 volt batteries (up to 8.0L gas or 6.0L diesel engines) Works with cars, motorcycles, RVs, tractors, trucks, lawnmowers, cargo vans, ATVs, snowmobiles, boats, etc. A full charge works up to 30 times with 1500 amps of peak current using heavy-duty clamps.
QUICK-CHARGE USB PORTS: Designed with dual USB outputs, the quick-charge 3.0 USB port charges your devices faster and is compatible with almost all USB charging devices.
ADVANCED PROTECTION & UPGRADED SECURE CLAMP: The GP200 has built-in smart security protection making it safer to use. The included upgraded clamp is now bigger and more durable.
PORTABLE CHARGER & LCD SCREEN: 20800mAh Capacity with Dual USB Ports. Charges phones, tablets, cameras, kindles, and other devices. The built-in LCD screen displays the battery's status and alerts you when it's time to recharge.
WHAT'S INCLUDED: GOOLOO GP200 Jump Starter, 12V Battery Clamp, Wall Charger, Car Charger, USB – Type C Cable, Storage Case, User Manual. (Notice – DO NOT INCLUDE 12V cigarette lighter socket adaptor.)
Note: "We may receive a commission when you purchase products mentioned in this website."