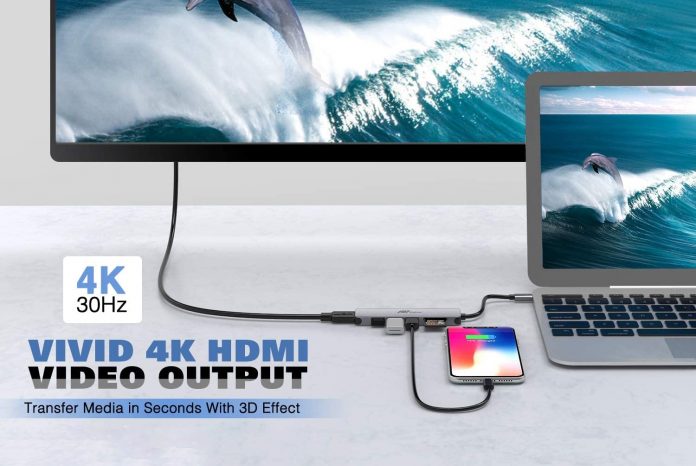 Amazon provides a 15 percent discount for the highly-rated FlePow USB-C 7- in-1 adapter. With the ongoing offer, this extremely versatile adapter can be picked up at only $21.24.
The space-saving and extremely lightweight design it offers is one of the first things that you can find using this hardware. Instead of having accessories and peripherals throughout the room with wires which are tangled and cause a visual and logistic desk-based nightmare, this 7 in 1 hub lets you connect one end to your laptop and keep everything else tidy and tidy.
The adapter looks great with a premium aluminum finish that matches a few of today's most beautiful products. Indeed, the company actually states that it "with its sophisticated beauty it is perfectly matched with your MacBook." It removes the need for additional driver installation and is compact and "effectively" ported so that you can carry it on your journeys and that it doesn't require much storage. It includes a 4K HDMI port, two SD card readers, a USB-C charge port, and three 3.o USB ports for maximum efficiency.
Product Highlights:
Portable & Anti – overheat & plug and go – sleek compact with pocket-size, 4. 5*1. 1*0. 4 in, Easy to set into your laptop sleeve, bag, or pocket. Premium space aluminum shell makes the USB C hub sturdy and durable, Also designed to prevent overheating, keeping you and Your devices secure. Plug and play, no software, drivers, or complicated installation required.
7 in 1 design & massive expansion – 3 standard USB ports with 5Gbps transfer speed ensuring quick syncing and file sharing, 1 HDMI port with vivid 4K video output that transfers media in seconds with 3D effect, 2 SD card slots (one Micro SD) for superior data-storing versatility, and a USB – C power Delivery charging connector that makes the USB C adapter possible to connect any devices with USB – C ports —All possibilities in one hub.
4K HDMI Video Adapter for Stunning Pleasure – Extends your screen with the HDMI port and directly stream 4K UHD or Full HD 1080p video to HDTV, monitors, or projectors. FlePow USB C Hub brings you vivid 3D effect video sync. Perfect to stream a full HD movie on your HDTV; extend a 3D video game on your monitors or show your PPT through the projectors for office meetings.
Universal SD ready – SD card and Micro SD card can be used at a fast transfer speed up to 104M/s, capacity up to 512GB, easy to transfer photos shooting or videos by your camera from cards to the laptop in just seconds.
Smart temperature control – with build-in smart chips and exclusive multi-protection systems to avoid over-current, over-voltage, short circuit and high-temperature for security and excellent performance
Note: "We may receive a commission when you purchase products mentioned in this website."